We Are Proud to Protect Your Vehicle and Our Inventory with the PermaSAFE Sanitation System

How Will We Use PermaSAFE To Protect You?
Our Service clients' vehicles and Service loaner vehicles will all have touch points treated in the vehicle upon receiving and releasing them in order to protect our clients and our staff. In addition, all of our Pre-Owned Inventory will be treated prior to being placed on the display area using the two-part sanitation process and after each demonstration drive all of our new and pre-owned inventory will have the recommended "touch points" sanitized. It is our continued mission to protect our community from the spread of infectious disease.

What is the PermaSAFE?
 
PermaSAFE is an antimicrobial cleaning and protectant process that can help protect the interior and exterior of your vehicle. When used, the microbial interior protectant solution has a patented active ingredient that molecularly reacts with, and permanently bonds itself to the surfaces which it is applied. As the coating dries, millions of positively charged microscopic "spikes" develop and extend from the surface of your seats dash and any other surface that was treated.

The Facts about Germs in your Vehicle:
The average passenger vehicle hosts more harmful bacteria than the average home.
75% of infectious diseases are spread by hands touching everyday surfaces.
51% of people wash their hands after sneezing or coughing but virtually zero wash their hands after driving their car.
Hours
Monday

8:00 AM - 6:00 PM

Tuesday

8:00 AM - 6:00 PM

Wednesday

8:00 AM - 6:00 PM

Thursday

8:00 AM - 6:00 PM

Friday

8:00 AM - 6:00 PM

Saturday

8:00 AM - 4:00 PM

Sunday

Closed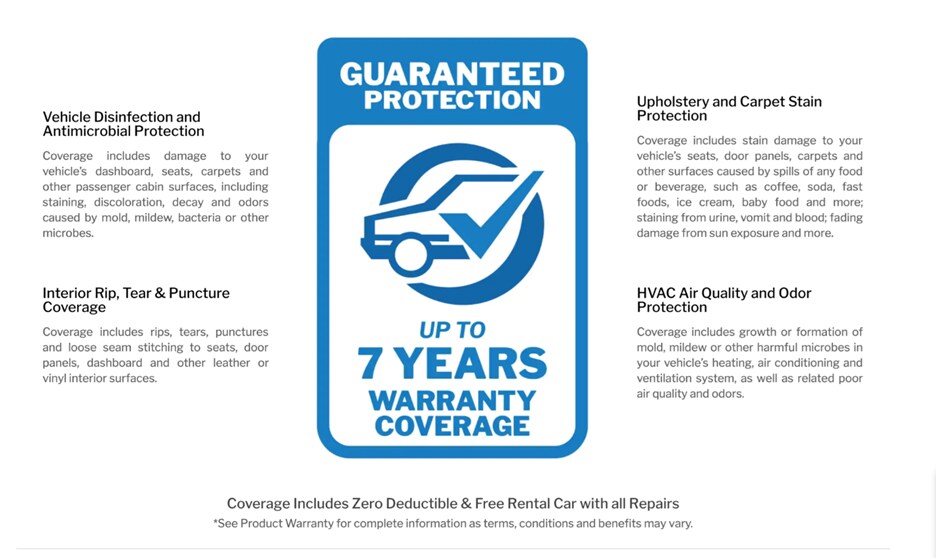 Looking For More Information?