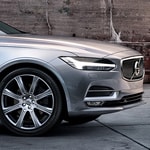 An excellent choice in the luxury wagon department, the Volvo V90 is the standard for many reasons. Those of us at Volvo Cars San Diego know that we all have different needs in terms of our vehicle. We all need safety features that are practical while we navigate the lively schedule, we find ourselves consumed in.
The Volvo V90 has plenty of safety features that make your driving experience better. The rain-sensing windshield wipers won't leave you scrambling to see when a downpour suddenly occurs. They will automatically turn on, leaving your attention on the road.
Another great standard safety feature found in the wagon is the distance alert tool. The system makes sure you are keeping a safe distance from the vehicle in front of you based on the speed you are driving. See more of these great features by visiting our showroom in San Diego, CA for a test drive in this magnificent wagon.